Silence, I've read, is a good way to bump into yourself.
       This past week I headed back to the Lama Foundation, only this time it wasn't for singing in circle with a group of gentle and inspiring women, but to visit the high hermitage there, built onto a mountainside where floor to ceiling windows frame New Mexico's northern stretch of the Taos Gorge.
       In the past four decades, I've been a silent retreat junkie: 1980s at Laity Lodge's Quiet House in the Texas hill country, a month alone in a cabin in Cripple Creek, Colorado; 1990s at Rancho Viejo, a truly desolate place on 22,000 acres on the border of Texas and Mexico; in the 2000s I took a year sabbatical from my teaching position, much of it silent, in an old country trailer, then later dabbled in various monastery stays for varying lengths of time. I finally bought an old trailer and six acres where I could regularly enjoy silence, solitude, and sanctuary.
       I had seen this hermitage during the singing retreats at L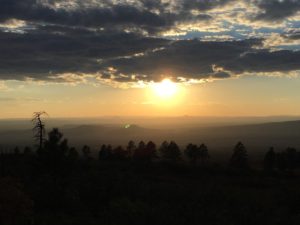 ama and it beckoned me. With two books (
In Pursuit of Silence
and
Soul Tending
), binoculars, my journal, pens full of ink, and a change of clothes, I was off. Two nights only. Not a problem. I didn't give this venture a second thought.
       By early evening the first night, I was bumping into myself, hard. I'd almost finished my books, I didn't need to prepare any food as the Lama staff brought that to me and left it in a designated place on a trail, it was too late to hike, and I was weary of journaling.
       What's a hermit to do? Apparently I've become used to doing more than being: tending gardens, walking my dog, cooking, spending time with Bill and/or friends, cleaning, watching films, planning who knows what, and endless work on the computer for my book coming out next year. At this point, forty-eight hours of being a hermit was feeling like a damn long stretch.
       After tidying my little space­––which involved folding a blanket and moving my stuff around––I made a list of things I needed to do when I got home. Tidy. Organize. Plan. The sun finally set after lolling around on the horizon forever. I was relieved time was passing. By dark I threw myself in bed, convinced the vast, starry sky filling the huge windows would soon lull me to sleep.
       No such luck. Coyotes started chatting each other up. The half moon was as bright as a Texas high school football stadium on Friday night. When it finally slipped below the horizon, boom!, the Milky Way burst on stage throwing out stars, colors, and gaseous clouds. What a showstopper! Lying in bed, I used my binocs to zoom in on stars and planets. It occurred to me that I might never sleep. Then the wind started blowing, and my latch-less screen door slammed over and over.
       My brain refused to stop. I relived both my dogs' deaths from this past year–– pure torture––then flitted to people I have hurt and those who have hurt me––more torture. Is this necessary? Finally I dozed and awoke to a dream of being raped by a stranger I had passed on a hike that afternoon. Good grief! I was no longer bumping into myself here, I was ramming into a wall, over and over. Sadness. Violation. Fear. Around four in the morning I crashed, hopeful for an experience of sanctuary come daylight.
       The sound of a truck woke me. Then a second, a third, and a fourth. I was getting dressed when loud music came on. By the time I opened my door, chainsaws were hitting high gear. What the hey? The elaborate memorial for the mystic Sufi master, Sam Lewis, just beyond my hermitage, was apparently scheduled for construction this week, despite the Lama staff thinking it wasn't. A construction worker waved at me when I stepped onto my porch to check out the scene.
       Under normal circumstances, I would have been sorely disappointed in having my retreat interrupted. But this morning, I cheerily bopped down the mountain, happy to have something to take care of! For the next two hours my hermit caretaker and I discussed options, then hiked to two other places on the property I could stay. Decision made, I hiked back up the mountain to get my stuff and clean up, and then I bounced down the mountain to Mexican music. By this point, I had bumped into myself so many times I was numb to any disappointment or lack of sleep. I was just relieved to have something to do!
       My next hermitage was nestled in the brush. A labyrinthine path led to two doors that I opened simultaneously, spreading my arms wide. Adobe walls met in a vaulted ceiling in this tiny, womb-like space. I entered and released a deep breath, not sure if my relief was about how welcoming this space felt or that only twenty-four hours were now left for my retreat. But a nervous energy continued to skitter within me, so I decided to hike to the acequia (a watercourse for irrigation) before unlacing my hiking boots. I practically ran, soaking up fall colors and a
dazzling blue sky, finally stumbling onto the acequia. I took off my shirt and kerchief and soaked them, standing naked at noon where brush-land met forest, listening to buzzing and breezes.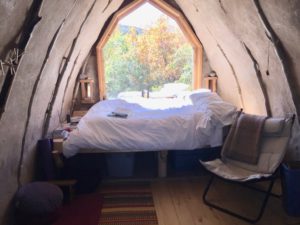 Am I trying to thoroughly exhaust myself, I wondered? Lately I've been exploring practicing Sabbath––a day without an agenda­­––and I've noticed what a challenge it's been for me. Amstutz (https://www.afamstutz.com/), the author of Soul Tending, notes how agenda-mania or busyness disguises ambition, anxiety and a fear of real intimacy, even with ourselves. "A hollow hyperactivity" is how she describes this cantankerous behavior.
       Thinking about the year to come and the traveling we'll be doing for my book, it occurred to me that I better start flexing my Sabbath or hermit muscle, the one that allows me to slip into silence, solitude, and sanctuary with grace and ease when I'm leaning into hollow hyperactivity. I put on my wet shirt, wrapped the dripping bandana around my head, and headed back to my nice, quiet hermitage. Not a problem, I thought.