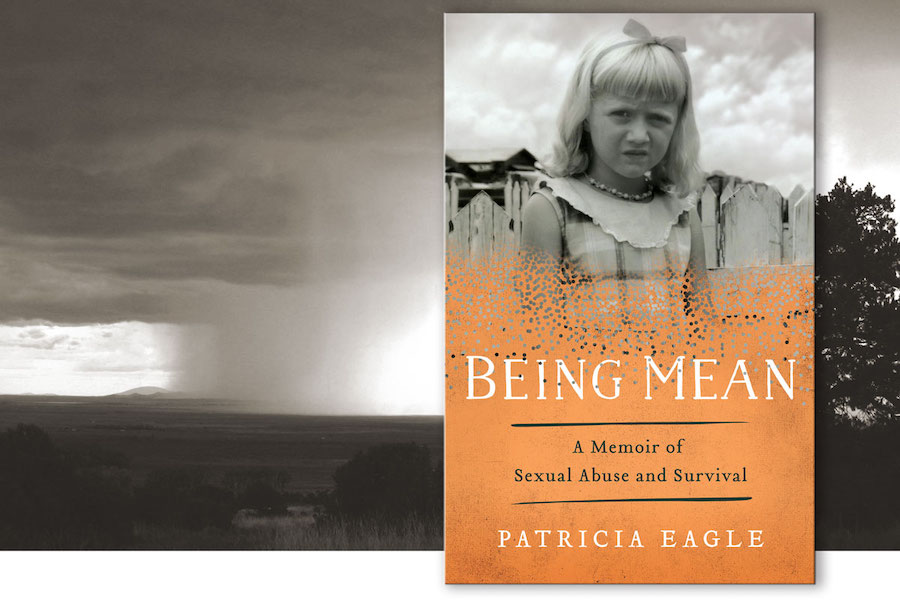 " A deftly written work of commendable honesty, exceptional candor, and impressive personal courage, with a riveting and relevant message for today." — Midwest Book Review
2020 Colorado Independent Publishing Association (CIPA), 3rd Place in Memoir
2019 Foreword INDIES Finalist in Adult Nonfiction: Autobiography & Memoir
2019 Colorado Author's League Finalist in Adult NonFiction: Historical, Autobiographical
Purchase Now Through PayPal
Patricia Eagle's extraordinary memoir, Being Mean, is a testament to the power of the human spirit to prevail over childhood sexual trauma, heal itself in the act of truth-telling, and emerge from the depths of confusion with survivor's wisdom and an open, generous heart. Eagle's humor, candor, and determination to bring compassionate understanding to the darkest of crimes separates this book from the majority of abuse memoirs; so does her spirited refusal to sacrifice sexual freedom and pleasure to the fire of childhood incest. Daring, beautifully written, and filled with unforgettable moments, Being Mean is one brave woman's story of soul retrieval and finding her way through the mysteries of love. It deserves a place on your bookshelf next to Kathryn Harrison's The Kiss, Eve Ensler's The Vagina Monologues, and Bass-Davis's The Courage to Heal. I could not recommend it more highly.
Mark Matousek, author of The Boy He Left Behind and When You're Falling, Dive
With Deirdre Breakenridge of Women Worldwide
---
. . . the author is not only being candid and open, she is also carefully bringing us into a story of her life­­––and it is like she is uncovering it as she writes––possibly the best part of the whole book for me. It is like she is letting us in on her own learning, and in so doing I found myself not just along for the ride but learning and thinking as well––a sign of a great book in my opinion!
---
. . . Patricia does a remarkable job of inviting you into her psyche and dilemma-filled lifetime of struggle. The book is also difficult to put down—but as you reach the end, the difficulty gives way to resilience that she shares with you--her ability to overcome and live her life fully in spite of her dark past of family secrets and self-doubting.
---
This is a vivid and well-written account of a life affected by sexual abuse and the circuitous journey to find acceptance, reconciliation and peace. The author is brave, honest, funny and compassionate. I could hardly put the book down and I highly recommend it.
---
. . . Her frank honesty both shocks and soothes the reader at various points along the way. I experienced a bittersweet message in the struggles she encounters at various stages of her repression, discovery and eventual response to her childhood sexual abuse. The bitterness arises from the many ways in which such abuse can rob its victims over and over again of finding wholeness in their self-image and life choices. The sweetness arises from Patricia's persistence in seeking out personal and professional companions, along with her own meaningful disciplines and pursuits, in her dogged pursuit of healing. A must-read for this difficult time in our society's slow reckoning with sexual abuse, and a book you should definitely pass along.
---
Here is the thing about Eagle's writing, she exquisitely describes ordinary moments in a life. This is an uncloaking of her story of sexual abuse and the ramifications in one woman's life . . .
---
. . . Two elements of Patricia's memoir make it stand out for me, though, from many similar stories I have read: (1) The writing is especially fine, with well-chosen words that give the reader a clear sense of "being there" as the narrator/protagonist experiences the highs and lows of childhood, adolescence, young adulthood, and finally the mature years of caregiving for her own parents. (2) Although Patricia is victimized as a child, and later as an adult whose own mother refuses to believe the memories her daughter had repressed but has begun to recall through therapy, the author doesn't portray herself as a victim. Hope, joy, and ultimately triumph permeate Patricia's struggles to claim her independence from the expectations and demands of others, her right of self-determination, her sexuality, and her peace with the past. I highly recommend Being Mean: A Memoir of Sexual Abuse and Survival, which is more than its title suggests. It's really a story of the victory of the human spirit over whatever challenges that life, and other imperfect humans, can throw at it.
---
. . In addition to showing how complex the pain and confusion of trauma can be, there are also glimpses of coming into a full life, rich with relationships deepened by healing and nurtured by the kind of mature sexual intimacy that many who seek to heal from histories of sexual harm doubt will ever be possible. In painting that picture so well, Being Mean offers an illustration of something that too often gets left out of conversations about sexual trauma: that post traumatic growth is possible, and whenever it occurs it's like trail maintenance on the path forward for others . . .
---
Patricia Eagle is a terrific writer. In this memoir, she is kind and generous to the reader, builds our resilience as she builds her own, allows us to move with her through a story that is really difficult at times so that we arrive with her, whole, to healing and well-being.